» Single Water Bike WB01H01
DESCRIPTION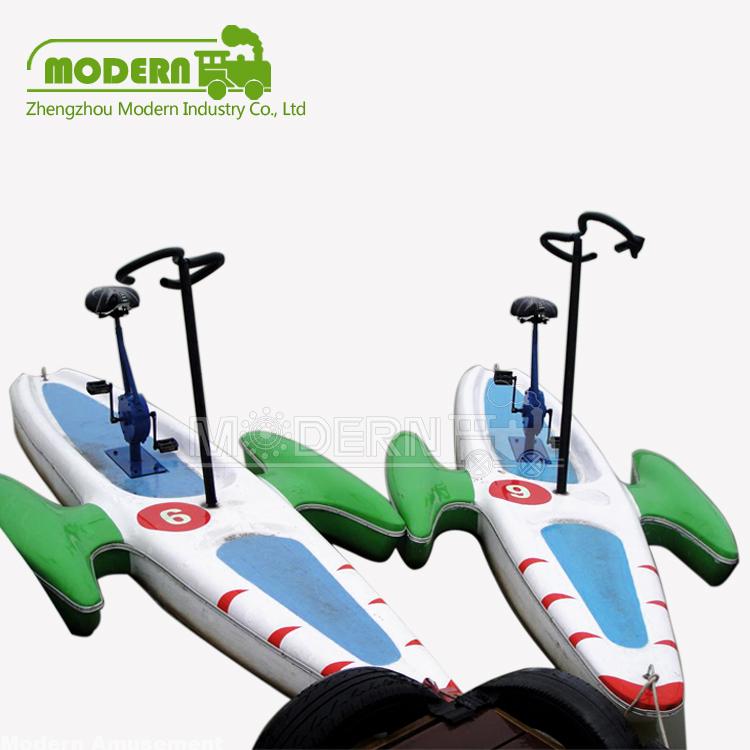 SPECIFICATIONS
Size:3.9m*1.2m*0.5 m
Load:1 rider
Load weight:<200kg
Speed:8--13 km/h
Weight:65kg
Draft water:20-30cm
Material: glass fiber reinforced plastics
Package size:12sets/20ft;36sets/40ft
With ISO and CE certificates
Color can be made as your like.

FEATURES
Water cycling originated in Canada, comfortable, safe, its seat height can be adjusted, handlebar racing type, easy to manipulate around the pedal, the pedal can move forward or back everything freely, if you feel the fatigue, but also stoppedfeet in the water "suspended", very leisurely. Riding the water bike is very lightweight, can reach 8-12 km per hour, but you need not worry about its security, it will never be "roll-over" dangerous, and there is no strict age limit, all ages. The water bike can be a single person driving.
Installation: easy to install a few minutes to complete. PVC material is more easy to carry features, is the ideal holiday travel play tools.